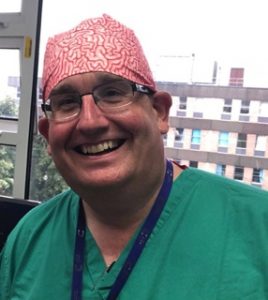 Stephen graduated in medicine from Bart's Medical College in 1994 and did his basic surgical training in the East Midlands. He trained in neurosurgery in Nottingham and Romford before starting the Cambridge training scheme. Stephen was made Clinical Lecturer in 2005 and was appointed consultant neurosurgeon with a special interest in managing brain tumours in 2008. He is currently the network lead for brain tumours at the Anglian Cancer Network and is Co-Director of the Neuro-Oncology Programme at the Cambridge Cancer Centre. Stephen introduced 5-ALA fluorescence guided surgery to Cambridge to help maximise tumour removal and, with colleagues, regularly teach other surgeons how to use these methods. His practice is largely based around the surgical management of malignant brain tumours (gliomas and metastases).
He has recently been awarded a NIHR Career Development Fellowship to develop a precision surgery programme. His research group uses advanced imaging methods to study the invasion and impact of tumours on the normal brain surrounding brain tumours. This work aims to better outline the invasive margin of these tumours and understand the effect of these tumours and treatment on the functioning of the normal brain. He is a Fellow of Queens' College and is the Director of Studies of Clinical Medicine.
Stephen Price is a Principal Research Associate and Hon. Consultant Neurosurgeon in Cambridge. He is the surgical lead for neuro-oncology and has a clinical interest in surgical oncology for gliomas, awake craniotomy and brain mapping, fluorescence guided surgery and patient reported outcomes. He is interested in teaching and training and is the Training Programme Director for the East of England and is the Director of Studies for Clinical Medicine and Fellow at Queens' College.
His research interest is in using advanced MRI and PET imaging to understand pathological changes in the tumour an surrounding brain, as well as cognitive outcomes in brain tumour patients. He is the Co-Director of the Cambridge Cancer Centre Neuro-oncology Programme and the Director of the Cambridge Brain Tumour Imaging Laboratory. He is the chief investigator for the PRaM-GBM study (prediciting sites of tumour progression in newly diagnosed glioblastomas) and SCARF-BT – a rehabilitation feasibility trial for emotional recognition in brain tumour patients. He is the only surgeon to be awarded an NIHR Career Development Fellowship to develop a programme of precision surgery for glioblastoma patients.