COGNITION & MENTAL HEALTH
Professor Sahakian and her team at the Behavioural and Clinical Neuroscience Institute at the University of Cambridge have developed two games aimed at helping users improve their attention and concentration. The first is a memory game called Wizard. Research shows that playing the game improves memory. The second is Decoder, a game designed to improve attention. In a study published in Frontiers of Behavioural Neuroscience Professor Sahakian shows that users who play Decoder significantly improve their attention in standardised tests when compared to control groups.
Visit the website: www.cam.ac.uk/decoder
Download the App: www.peak.net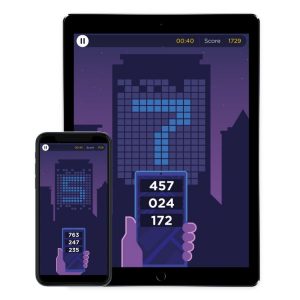 Research strategy
Patients with brain injury experience cognitive and psychiatric problems that greatly impair their return to work and reintegration back into family and community life. For example, many prisoners have sustained a head injury earlier in life, often resulting in abnormal impulsivity and poor inhibitory control following damage to the fronto- parietal network. Patients experiencing depression after a traumatic brain injury (TBI) show increased levels of anxiety, cognitive deficits and disability in comparison with those who do not develop depression. Emotional sequelae after brain injury, such as anxiety and depression, often interfere with successful rehabilitation and recovery.
TBI can cause both localized and diffuse damage. The majority of TBI studies have focused on the effects of focal injuries, which have been found to be of limited value when attempting to predict clinical outcome. The study of diffuse axonal injury may offer a broader neurobiological framework for understanding clinical outcomes following brain injury. For example, evidence from neuroimaging studies has demonstrated that depression is associated with dysfunction in areas involved in processing emotional stimuli, such as the insula, the thalamus and the subgenual anterior cingulate cortex (ACC), as well as abnormal function in brain regions involved in cognitive control, such as the dorsolateral prefrontal cortex (DLPFC). Importantly, recovery from depression has been associated with increased activity within the DLPFC and decreased activity within the subgenual ACC, the insula and the thalamus, among other regions. Evidence indicates that depressed patients show abnormal regulation of negative and positive valenced information as well as preferential processing of negative information (i.e. a mood-congruent processing bias).
These cognitive dysfunctions may result from alterations of two brain circuits: an amplified emotion-processing circuit and an attenuated cognitive control circuit, which will normally suppress such abnormal affective responses. In other words, TBI-induced depression may result from altered functional connectivity of a set of networks associated with emotional regulation. However, other factors, including a number of adjustment issues and challenges, may also lead to depression in this population. In the context of response inhibition, the right inferior frontal gyrus (RIFG) has been postulated to be the main area associated with cognitive control. Nevertheless, high-level cognitive functions such as response inhibition require the integration of information across spatially distinct brain regions and therefore diffuse axonal injury and its effect on long-range white matter tracts may be responsible for the compromised response inhibition found in TBI populations. The coordinated activity of large- scale brain networks such as the central executive, the salience and the default mode networks (DMN) seems to be necessary for efficient inhibitory control. Studies of these networks in TBI populations have reported abnormally increased DMN connectivity, as well as reduced connectivity, between salience and DMN during the execution of response inhibition tasks.
Potential for therapeutic intervention
At first sight, it might be assumed that cognitive problems resulting form both focal and diffuse brain injury are irreversible once natural recovery has plateaued. However, there is growing evidence that modern technology and cognitive-enhancing drugs offer hope for improving outcome through:
Early detection and monitoring of cognitive problems and neuropsychiatric symptoms (e.g. depression, anxiety, apathy) and development of new cognitive treatments, such as cognitive training with games
Pharmacological interventions that improve cognition, motivation and general functioning
Aims and specific short (1 year), medium (2-3 years) and long (4-5 years) objectives
Improve network interaction and communication
Complete study of game-based attentional training ('Decoder') in patients with TBI
Develop wrist-worn activity measurements as a potential real-world biomarker for people with memory problems and late-life depression
Explore the therapeutic potential of neuromodulation of emotional dysregulation associated with episodic aggressive behaviours in adults with developmental or acquired brain damage using transcutaneous vagal stimulation.
Work with subgroups of the Cognition theme and apply for funding of studies on cognition and TBI
Technology-transfer Decoder (attention app) to make it available to the public
Expand the development of wrist-worn activity measurements as a potential real-world biomarker to other groups e.g.brain injury
Establish a catapult in Cambridge in the area of technology, mental health, brain injury and wellbeing
Collaborate with industry in the development and evaluation of cognitive enhancing drugs.
Secure funding for the development of other apps to address cognitive training in patients with TBI, stroke and tumours (e.g.apps for improving cognitive control, response inhibition)