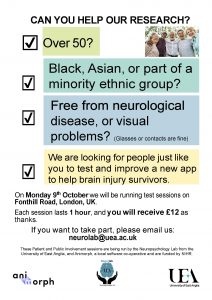 Patient and Public Involvement and Engagement opportunity!
Are you over 50?
Black, Asian or part of ethnic minority group?
Free from neurological disease or visual problems?
On Monday 9th October the Neuropsychology Lab from the University of East Anglia, and Animorph, a local software co-operative will be running test sessions for a new app to help brain injury survivors. The event will be held on Fonthill Road, London, UK. 
Each session lasts 1 hour, and contributors will receive £12 as a thank you. 
If you wish to take part, please email: neurolab@uea.ac.uk