Following on from the NIHR Brain Injury Healthcare Technology Co-operative (HTC) from 2012 to 2017, on Wednesday 25thApril the NIHR Brain Injury MedTech Co-operative (MIC) was officially launched on 25th April 2018 with an all-day event at the Homerton College in Cambridge presenting the Programme for the next five years.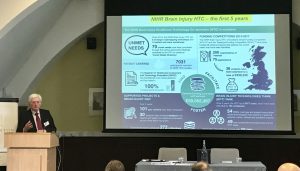 The launch was opened by Mr Nathan Moore from the Department of Health and Social Care, and it featured the talks of different speakers contributing to the many projects and fields of the Programme which will build on from the successful past five years and continue to facilitate and foster innovation for the brain injury pathway and patients.
"Innovation must not be a fringe activity and finding a better way of working is everybody's job" stated Professor (Emeritus) John Pickard, BrainMIC Honoray Director, officially launching the Programme to the audience.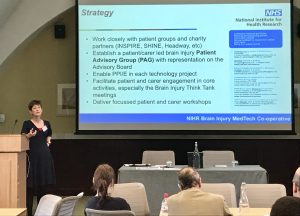 As a 'go-to' centre of expertise for understanding the clinical care pathway, the BrainMIC will catalyse innovation in eleven clinical and research areas led by internationally renowned experts in their respective field and it will be committed to new research projects and activities engaging with industry, patients, carers, NHS, charities, academia, inventors SMEs, business angels and medtech companies.
A fundamental role will be played by Patient and Public Engagement (PPI) and the Third Sector. The MIC will build on the HTC strong commitment to involving and engaging with patients, carers and the public, and past collaborations with charities including Headway Cambridgshire, Brain Tumour Charity, Stroke Association, MS Society, Designability (Bath), AMRC, Carer's Trust, and Children's Brain Injury Trust.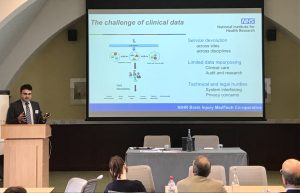 Register for Healthcare Involvement and Technology Evaluation (RHITE)                                               
The BrainMIC has successfully implemented the Register for Healthcare Involvement and Technology Evaluation (RHITE), a volunteer register for patients, carers and anyone interested to be involved in re- search and assist in the advancement of healthcare technologies. The MIC will build on the HTC Unmet Needs Directory, to ensure that research is focused on questions that are important to people with brain injuries, and those who care for them. To find out more, please visit
https://brainmic.nihr.ac.uk/rhite
and to register to RHITE follow this link
https://orioncloud.org/rhite
.
Click on 
AGENDA
to download the Programme of the day.
Honorary Director – Professor (Emeritus) John Pickard
Deputy Director – Dr Peter Jarritt
Deputy Director – Dr Alexis Joannides
Programme Manager – Ms Mita Brahmbhatt
Programme Coordinator – Ms Francesca Piffer
MIC THEMES
FUNDING OPPORTUNITIES
MIC Small Funding Competition 2018/19